Cyclops (Blue Team)

Synergy Guide
Cyclops (Blue Team) is a Mutant class champion in the Contest of Champions who forms a synergy with 13 other characters, available as a 3-Star, 4-Star and 5-Star champion.
As a straight-laced youth, Scott Summers was recruited into the first generation of X-Men by Professor Xavier. Projecting forceful optic blasts from his eyes, he is a formidable defender of mutantkind. Working alongside his fellow X-Men as their tactically-minded leader, Cyclops works hard to protect mankind both from itself and from the Mutants who have joined the human-hating Brotherhood led by Magneto.
Synergy Bonuses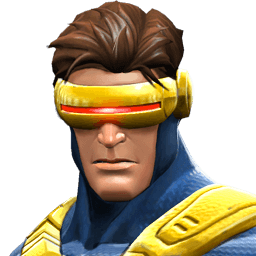 ---
---
---
---
---
---
---
---
---
---
---
---
---
---
Please note: The 'Mutant Agenda' synergy bonus is only beneficial for the other Mutant champions in your team. Cyclops (Blue Team) can also activate 'Mutant Agenda' with Colossus as an alternative.
---